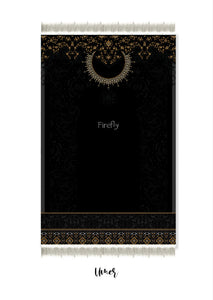 Attributed to the 2nd Caliph, and before that one of the most powerful Muslim Men and companions from the time of the Prophet Sallallahu Alaihe Wasallam. Umer as a design is commemorative of a warrior, a strong and mighty leader who helped spread the message of Islam. The deep hues, and ornate nature of the design elements are symbolic of his contributions to the advocacy of deen and the massive growth of the Islamic empire. The black color is also an ode to the color of the Ka'bah where he openly prayed as one of the first Muslims.
Digital print on Suede

6 mm foam padding for comfort

Silk Tassels for trimming

Lined at the bottom with a non-slip material

It is recommended to dry clean the Janamaaz, to avoid the tassels from fraying or being damaged, and to keep the foam from losing shape.

18 working days for delivery

The colors may vary slightly on screen vs in person

The tassels / trimming shades might vary based on market availability

This image is digitally created. The actual janamaz is soft and can be folded / rolled. It looks even better in person!

To remove creases, lay flat.