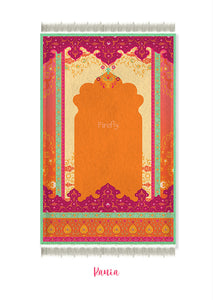 Rania, is attributed to triumph or victorious with relevance to verses from the Quran. Rania as a design is vibrant, bold, and regal. It is also a beautiful gift for one about to get married or seeking a janamaz with a formal look / design.
Digital print on Suede

6 mm foam padding for comfort

Silk Tassels for trimming

Lined at the bottom with a non-slip material

It is recommended to dry clean the Janamaaz, to avoid the tassels from fraying or being damaged, and to keep the foam from losing shape.

18 working days for delivery

The colors may vary slightly on screen vs in person

The tassels / trimming shades might vary based on market availability

This image is digitally created. The actual janamaz is soft and can be folded / rolled. It looks even better in person!

To remove creases, lay flat.