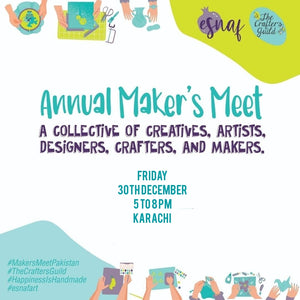 We love the network we have built over the years as a craft community, and we want to celebrate it as an evening just to hang out, connect and enjoy each other's company.
We invite all creatives, artists, crafters... all makers within Karachi to join us for the annual Maker's Meet hosted by The Crafter's Guild and @esnaf.art
The evening comprises of networking activities, guest speaker sessions for inspirational conversation, followed by dinner. Let us reflect on a year of creative energies, exciting milestones and spirit of makers!
This is a ticketed event, a virtual ticket on your name IS required. Payment via bank transfer / debit card / or cash deposit. NO COD. Payment to be made on first come first serve basis within TWO WORKING DAYS.
30th December, Friday 
5 to 8 pm 
Marriott Karachi
This is event is not restrictive to women only. Tickets are per person. 
PLEASE MENTION YOUR FULL NAME AND BRAND NAME IN NOTES AT CHECKOUT FOR YOUR TICKET TO BE EMAILED TO YOU BY 28th December. This event is only open to Makers and Creatives.
Early Bird tickets are 3500/-  valid til 21st December. 
First 10 tickets receive swag. First 20 tickets eligible for a lucky draw gift basket valued at 25,000/-
Tickets are not refundable or transferable. 
#makersgonnamake #mmk22 #makersmeetpakistan #makers #PakistaniCreatives #creativepakistani #Karachi #entrepreneurship #madeofpakistan #happinessishandmade #craftsofpakistan #craftersofpakiatan #womenempowerment #esnafart #designer #artist