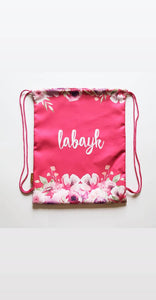 Labayk.
Here I Am.
The first word from Talbiyah, chanted when one performs their spiritual journey in Makkah... an opening dialogue in praise of the Almighty. Symbolic of submission to Him.
We know that Hajj is a very enlightening experience and a rather personal journey. While you make memories of a lifetime, allow Firefly to wander with you in the form of this gorgeous drawstring.
Keeps the essentials while you tread seeking Him and His infinite Mercy.
12x15 inches
Digital Print
Synthetic Twill 
Can be customized, please mention name in 'Notes' at checkout 
Please be advised this item is printed in batches and may require 12 to 14 working days.