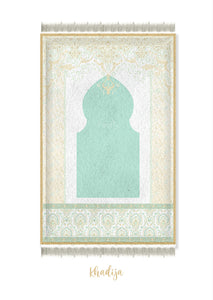 Khadija, without a doubt is one of the most notable and noble names in Islamic history. This janamaz is a humble tribute to her and the support of her actions to the conquest and spread of Allah's deen. Khadija Radi Allahu Anha is among the first four women to enter Jannah. It was her support and belief in her husband, The Prophet Salallahu Alaihe Wasallam which encouraged him to continue to strive in the way of Allah, for the spread of Islam. She was his greatest strength. She was also a socially strong individual at her time and was also from a financially strong background. She in fact, was notable for her trade across the world yet maintained her status as one of the most pious and purest of women. May all women inspire to live a life of Khadija Radi Allahu Anha who was highly spoken of, long after her passing.  The design itself embodies her strength and nobility through its earthy and pastel hues and white / cream base. 
Digital print on Suede

6 mm foam padding for comfort

Silk Tassels for trimming

Lined at the bottom with a non-slip material

It is recommended to dry clean the Janamaaz, to avoid the tassels from fraying or being damaged, and to keep the foam from losing shape.

18 working days for delivery

The colors may vary slightly on screen vs in person

The tassels / trimming shades might vary based on market availability

This image is digitally created. The actual janamaz is soft and can be folded / rolled. It looks even better in person!

To remove creases, lay flat.