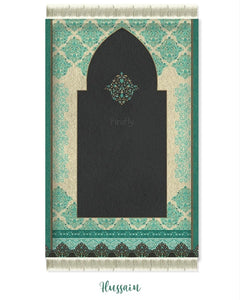 Hussain, dedicated to Syedna Imam Hussain, the master of youth and Prince of Paradise. The color black is often associated with him. So creating a design as a tribute to his greatness was the trickiest to do. Opted for faun, gray, cream, and hues of blue / teal as he embodied firmness and strength, carried immense peace and nobility, and was also wise / patient in his decisions and accepting of his fate at the battle of Karbala. His sacrifice would only illuminate the path for Muslims all those years later today. 
Digital print on Suede

6 mm foam padding for comfort

Silk Tassels for trimming

Lined at the bottom with a non-slip material

It is recommended to dry clean the Janamaaz, to avoid the tassels from fraying or being damaged, and to keep the foam from losing shape.

18 working days for delivery

The colors may vary slightly on screen vs in person

The tassels / trimming shades might vary based on market availability

This image is digitally created. The actual janamaz is soft and can be folded / rolled. It looks even better in person!

To remove creases, lay flat.