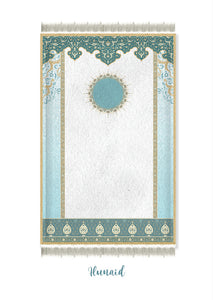 This design is a tribute to an educationist, philanthropist and humble human being who impacted thousands of lives through his efforts for youth of Pakistan and orphans around the world. His name, forever etched in hearts and prayers of countless people meant happiness. Hunaid Hussain Lakhani tragically passed away in September 2022 after succumbing to declining health with dengue. He was an advocate of crafts, supported countless women led initiatives and encouraged youth of Pakistan to progress and grow. To date, thousands of children at countless orphanages have been under his care and to date, continue to be looked after. May his efforts be a solace and Sadaqa e Jariah for him and his family.
Digital print on Suede

6 mm foam padding for comfort

Silk Tassels for trimming

Lined at the bottom with a non-slip material

It is recommended to dry clean the Janamaaz, to avoid the tassels from fraying or being damaged, and to keep the foam from losing shape.

18 working days for delivery

The colors may vary slightly on screen vs in person

The tassels / trimming shades might vary based on market availability

This image is digitally created. The actual janamaz is soft and can be folded / rolled. It looks even better in person!

To remove creases, lay flat.