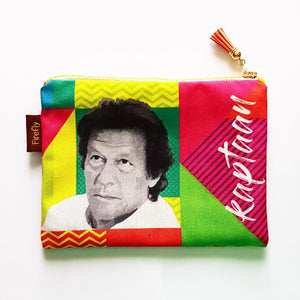 Introducing our Kaptaan zipper for those who are fond of Mr Imran Khan. From the world club to tabdeeli... a heavy influence on our popular culture! ❤
#kaptaan #ik #imrankhan #PMPakistan #PakistaniPop #Pakistani #pakistan #worldtoday #cricket #cricketworldcup #zipper #accessory #MadeinPakistan #accessories #create #colors #popart #design
Can hold make up, toiletries, stationery, medicine, and more!
8x6 inches
Imported gold zip
Colored tassel 
Velvet Inner lining
Digitally printed on canvas fabric
Minimum 12 to 14 working days