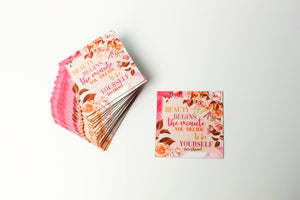 An inspirational magnet to add to your bride's maid gifts, empowerment sessions, and self care kits!

2.5x2.5 inches vinyl magnet
Glittered finish
Comes with a pink magnet holder (packaging)
7 working days (Karachi)

advance payment is required for this item, it will not be processed without it.
The design is currently available as is, variations in design elements / colors etc will not be fulfilled via the website. Please email smiles@whimsical-firefly.com for personalized requests and charges.