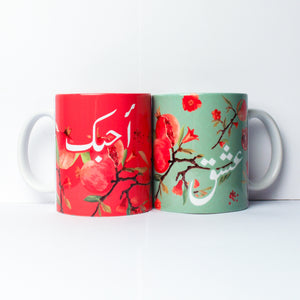 Isn't it lovely how languages are intertwined and so beautifully similar in their meanings? When we launched Ashk, the scarf it embodied love, whether physical, emotional or spiritual. It transcends the understanding of relationships, perhaps even representing love for the divine. 
Whether Ashk (Turksih for Love) or Ishq (Urdu / Arabic) you can find it speak for you when words fail. Ahhebak, (I love you) is just as bold and beautiful! 
The pomegranate represents beauty... its colors enthralling and definitely an embodiment of love as we see it today ❤ hitting the estore for orders.
Youu just might fall in love (whether you're reading a new novel, embarking a journey of self discovery, or finding yourself reflecting more and more about your significant other).
#LOVE #ahhebak #ashk #ishq #loveyou #loveyou3000 #iloveyou #rooh #divinelove #spirituallove #loveHim #lovestory #romance #beauty
Ceramic Mug
Digital print in sublimation process
5 working days (urgent requests on bulk orders) please email smiles@whimsical-firefly.com for details and confirmations.