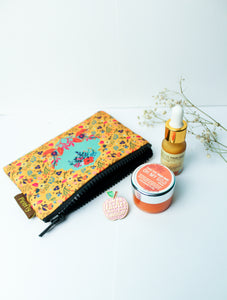 Mini vanity kit with enamel pin
4x6 inch zipper printed on twill with black lining and zip
Oh my Goji Serum: 

Made with organic goji berry, aloe vera gel, apricot kernel oil, jojoba oil, carrot seed oil, vit e oil, and lavender.

Restores hydration levels of the skin, works its magic to revive dull skin. Goji berries are a gift from the Amazon. Great for collagen production, packed with anti oxidants, and vitamin C, which helps lighten sun spots. Beta ceratene also reverses sun damage. The mixture of oils aid in reducing fine lines, giving the skin a hydrating boost. Mythical aloe works its  charm as an anti inflammatory, and anti bacterial, diminishing prospects of acne.

Liquid Gold:

Ingredients: Distilled water, Glycerine, Hyaluronic Acid, Grapeseed Oil, Castor oil, Saffron and Calendula oil, Coffee granules, and Natural Preservative Optiphen plus.